Friday Fish Fry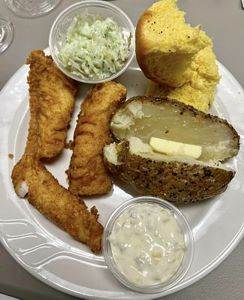 Want some Famous Knights of Columbus Baked or Deep Fried Cod?
Our Famous Fish Frys will will continue through the end of Lent, except March 24. We serve in person from 5PM to 8PM. Takeout meals can be ordered by calling 608-825-9195 starting at 3:30.
Fish Fry's BENEFIT Knights of Columbus Charities. Thanks to all who have supported our efforts, through our Fish Frys, to support the Youth of Sun Prairie! Since 2017, we have been able to assist youth groups in Sun Prairie in the amount of $185,000 and counting!
Please come out and support local charities!
Schedule
| | |
| --- | --- |
| Date | Benefitting Youth Organization |
| March 31, 2023 | Sun Prairie Storm |
| April 7, 2023 | St. Albert the Great Parish |
Menu/Prices
Adults: $15.00 3pc Deep Fried OR Baked Cod OR 6pc Shrimp OR 3pc Chicken Tenders
Kids (6-12) $7.00 2pc Deep Fried OR Baked Cod OR 4pc Shrimp OR 2pc Chicken Tenders
All meals include: Baked Potato OR French Fries, Cole Slaw, Baked Beans, and a Roll